CRYSTAL LAGOONS ENTERS PARTNERSHIP TO DEVELOP 30 PUBLIC ACCESS LAGOONS IN KOREA
Crystal Lagoons has revealed an agreement that will see it develop 30 public access lagoons across South Korea.
The multinational developer of landmark mega lagoons will be built at key tourism and urban development locations across South Korea and are each anticipated to attract average visitation from one million guests a year.
The developments, to be created and patented by the Chile-based multinational water innovation company, will be built in partnership with NexPlan.
The first project in Korea will be located in Songdo International City, on public land granted under concession. It will include a 2.7 hectare crystalline lagoon surrounded by restaurants, retail stores and an entertainment arena.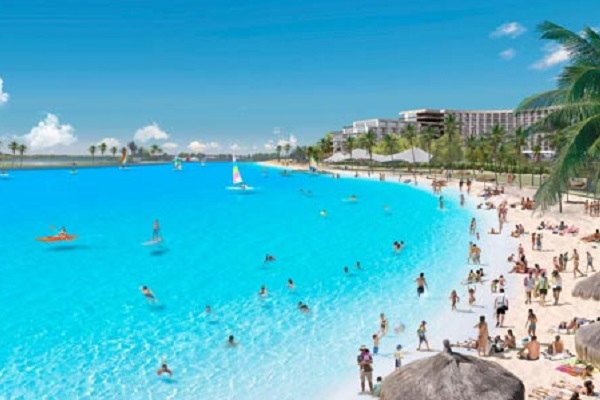 Announcing the development partnership, Crystal Lagoons Executive Director, Cristián Lehuedé stated "public access lagoons transform any location into the most entertaining spot in the city, and add significant value to urban environments, creating beach life on people's doorstep.
"Attractive amenities (that can) surround these monumental crystalline bodies of water, which can be accessed via ticketed entry, (can include) restaurants, beach clubs, retail stores and amphitheatres as well as entertainment and cultural activities, for hosting concerts, shows and film screenings."
Describing public access lagoons as the "meeting spot of the 21st century", Lehuedé advised that with shopping malls "one of the main forms of entertainment for Koreans", public access lagoons "will offer locals a new experience, allowing them to change their lifestyle.
"This is part of a growing, worldwide trend in which malls are being reconverted into open spaces and the need to offer new functional alternatives and experiences, such as these lagoons."
According to Lehuedé the allure of lagoons "lies in that they are used by large numbers of people.
"Furthermore, they allow for a rapid return on investment, since they have low construction and maintenance costs."
Crystal Lagoons already has 200 mega lagoon projects in different stages of negotiation, construction and operation in Thailand, Spain, Italy, Turkey, Indonesia, Dubai, South Africa, Australia and Chile."
Images courtesy of Crystal Lagoons.
Related Articles
3rd October 2019 – NEW INDONESIAN GLAMPING RESORT BECOMES CRYSTAL LAGOONS FIRST SOUTH EAST ASIAN INSTALLATION
8th May 2019 – CONSTRUCTION COMMENCES ON SOUTH KOREAN WAVEGARDEN COVE ATTRACTION
7th February 2019 – WORLD'S LARGEST SURFING LAGOON TO BE BUILT IN SOUTH KOREA
22nd January 2019 – SOUTH KOREA'S FIRST DEDICATED K-POP ARENA TO BE DEVELOPED IN SEOUL
12th October 2018 – LIVE NATION ENTERS PARTNERSHIP TO DEVELOP INTEGRATED RESORT IN SOUTH KOREA
26th March 2018 – MASSIVE NEW INTEGRATED RESORT GETS OFFICIAL OPENING ON KOREA'S JEJU ISLAND
18th February 2018 – KOREA LOOKS TO BUILD LEGACY OFF WINTER OLYMPICS SUCCESS
3rd October 2017 – MICHAEL PHELPS ANNOUNCED AS CRYSTAL LAGOONS GLOBAL AMBASSADOR
12th May 2017 – SKYLINE ENTERPRISES ANNOUNCES SECOND LUGE DEVELOPMENT IN SOUTH KOREA
10th February 2017 – CHINA HALTS KOREAN THEME PARK AMID MISSILE ROW
11th January 2017 – CRYSTAL LAGOONS TARGETS DEVELOPMENTS IN QATAR'S MULTI BILLION TOURISM INDUSTRY
6th July 2016 – TROPICAL NORTH QUEENSLAND TO GET AUSTRALIA'S FIRST MAN-MADE CRYSTAL LAGOON
10th November 2015 – SOUTH KOREAN THEME PARK TO WELCOME GIANT PANDA PAIR
10th November 2015 – CRYSTAL LAGOONS' DUBAI PROJECT SET TO TRANSFORM THE UAE LEISURE LANDSCAPE
4th August 2015 – KOREA TOURISM LOOKS TO RECOVER FROM MERS SLUMP
22nd January 2015 – SOUTH KOREA TO APPROVE MORE CASINOS TO BOOST TOURISM
20th January 2015 – CRYSTAL LAGOONS DEVELOP GIANT DESERT OASES